Hannah (Le
na Dunham)
Season 1: Long
story short: Hannah gets financially cut off, pines for Adam, gets HPV, accuses a now-gay Ex

of

giving her the disease, holds a bunch of different jobs for short amounts of time, tries to make Adam exclusive, fails, talks dirty to Adam while he beats off in front of her, goes back to Michigan, bangs an old acquaintance, sees her dad's dick, demands that Adam be more open with her, gets Adam to be her boyfriend, continues to struggle with her writing, gets into a huge fight with Marnie, offers her spare room to Elijah after promising it to Adam,

and eats cake on a beach by herself.
Hannah in 5 words: #protagonist; #insecure; #

egocentric;

#topless

; #writer?
You know her best as
: the girl who everything else revolves around
Marnie (Allison Williams)
Season 1: Long
story short: Marnie is dating Char

lie begrudgingly,

meets a real man, relieves some pent up sexual frustration in a

n art gallery bathroom,

talks shit about Charlie, gets dumped, begs for forgiveness, reconsiders

her decision,

dumps Charlie, gets really upset when Charlie

starts seeing somebody else, has to pay all of Hannah's rent and listen to her endless complaining, moves out, decides not to have sex with Charlie in a bathroom, and kisses a fat curly-headed guy instead.
Marnie

in 5 words: #
hot; #bestie; #traditional; #passiveaggressive; #nevertopless?
You know her best as
:
the girl who pleasures herself in public bathrooms (!!!),
Jessa (Jemima Kirke)
Season 1: Long
story short: Jessa arrives (pr

egnant)

from her European travels to stay with her cousin Shoshanna, loses the pregnancy, starts babysitting, flirts with her employer, fucks an Ex to prove she's unsmotable, invites her employer to a party, gets him beat up by crusties,

makes out with Marnie but rejects a threesome,

ruins

Jeff'

s marriage, gets dressed down by his wife and told it's time to grow up, impulsively marries Thomas-John, and is likely preparing

a

nullment documents as we speak.
Jessa

in 5 words: #flaky; #homewrecker; #adventurous; #impulsive

; #maturing?
You know her best as
:
the girl who marries complete fucking strangers
Sho

shanna (Zosia Mamet)
Season 1: Long
story short: Shoshanna is a

virgin,

almost has sex with an old camp friend but doesn't, smokes crack in Bushwick, kicks Ray in the nuts, gives him a massage, thinks everybody is a stupid whore, vibrates o

n a very strange frequency which Ray likes, goes home with Ray, and finally has sex.
Shoshanna in 5 words: #jappy; #guarded; #hardbody; #fasttalker; #

virgin?
You know her best as
:
the girl who smoke

d crack
Adam (Adam Driver)
Season 1: Long
story short: Adam is hard-to-pin-down, send

s Hannah a pic of his dick, apologizes because it wasn't meant for her,

tells Hannah they've outgrown eachother, runs into her at a party, decides to be her boyfriend, takes Hannah for a run, brings her to play rehearsal, pees on her, says he's sorry with a big mural, offers to move in with Hannah, gets replaced, freaks out at her

, and gets hit by a car.
Adam

in 5 words: #shirtless; #e

rrat

ic; #

weird

; #hilarious; #artist

e

?
You know him best as
:
the guy whose least creepy tendency is performing

1-man plays
Charlie (Christopher Abbot

t)
Season 1: Long
story short: Charlie wants Marnie to love him as much as he loves her, shaves his head, reads Hannah's diary, writes a break-up song to Marnie and performs it in

public,

starts dating a cool little hipster chick,

sees Marnie kiss another boy at Jessa's wedding, and goes home kind of sad.
Charlie in 5 words: #emo; #soft; #desperate; #boring

;
#musician

?
You know him best as
:
the guy who wrote the world's greates

t break-up song
Ray (Alex Karpovsky)
Season 1: Long
story short: Ray whips up some Opium Tea, finds Hannah's diary, shows the diary to Charlie, helps him write a song, chases Shoshanna through the streets of Brooklyn, hires Hannah to work at his coffee shop, hits on Shoshanna at Jessa's wedding, and

swip

es Shoshanna's v-c

ard.
Ray

in 5 words: #sarcastic; #sardonic; #virginchaser; #buttonpusher

,
#enlightened

?
You know him best as
:
the guy who entered Shoshanna first
Eli

jah (Andrew Rannells)
Season 1: Long
story short: Elijah dates Hannah in college, denies giving her HPV, calls her father gay, tells Marnie she's a self centered brat, makes amends with Marnie, tells Hannah he did in fact give her HPV, makes amends with Hannah, and agrees

to move in with her.
Elijah in 5 words: #gay; #snarky; #catty; #we

lldressed; #newroomie?
You know him best as
: the guy who used Hannah as the gateway to
self disco

very
Thomas-John (Chris O'Dowd)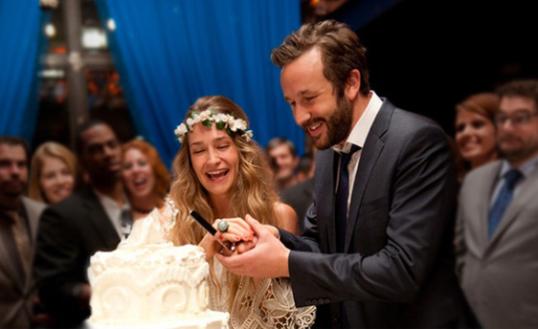 Season 1: Long
story short: Thomas-John buys Jessa and Marnie drinks, brings them back to his place, has his nice carpet ruined, tries to get them to have a threesome with him, fails, flips out, and is brought back 2 episodes later as Jessa's new

husband.
Tho

mas-John

in 5 words: #financedouche;

#uncool;

#

B

ridesmaids; #DJ; #husband?
You know him best as
: the guy who didn't get to have a threesome